The Groundhog Day Challenge After 100 Days
Updated: Nov 4, 2022
As I write this, I have 100 pages left to read but have spent the last 100 days trying to celebrate the last 100 years and have encouraged people to pick up Ulysses or dust it off and try finish it.
With daily content, I have encouraged people who have read Joyce or are currently reading Ulysses, to share selfies with the book, and some shelfies of their own book collections, if they have Joycean themed collections on their shelves.
From Finland to Uruguay and with poetry in Portuguese about Joyce, I have shared pictures of Japanese and Korean editions of Ulysses, as well as a Kurdish translation by Nawa Mukerji that is coming out in time for Groundhog Day.
As Joyce was born on Groundhog Day 1882, five years before the American festival was first celebrated and the fact that Ulysses was published on his 40th birthday, I knew that I wanted to link Joyce with Groundhog Day, particularly Groundhog Day 2022 which is 2,2,22.
One of the most interesting comments that I came across over the last 100 days was one written in Korean that I translated as "Even after reading it, I don't know what I read." A review of Ulysses in Korean definitely worth reading.
I am always amazed by the fondness for Joyce around the world, considering how complex Ulysses is and how difficult it must be for people to translate. Joyce spoke 17 languages and I wonder how people have negotiated translating his style, especially considering how Joyce threw in comments in different European languages including his native Irish.
Take a Spanish translation of Ulysses, how does Ulisses vary from Spain to Argentina?
I think part of the charm of Ulysses is the fact that it was banned and burnt and a certain notoriety must have surrounded his work as a banned book. Over the last 100 days, I have seen bookshelves full of Joycean books and people with shelves full of different copies of Ulysses.
52 blogs posted on groundhogdaychallenge.com and 187 Instagram posts and various retweets on Twitter, hours spent writing about Ulysses took from reading the book and it took time to get into the book and to find somewhere suitable to read it.
My plan was to read the book going to work but I couldn't enjoy it on the metro and buses so I switched to audiobooks while commuting and consumed much of Joyce's work this way and am on my second listening of Ulysses now.
I enjoyed audio versions of Dracula and Dorean Gray too but Ulysses really worked as an audiobook as I made my way around Madrid. I think Joyce really created a universal city and I loved listening to the narrative as I made my way around the the Spanish capital.
"Close your eyes and see"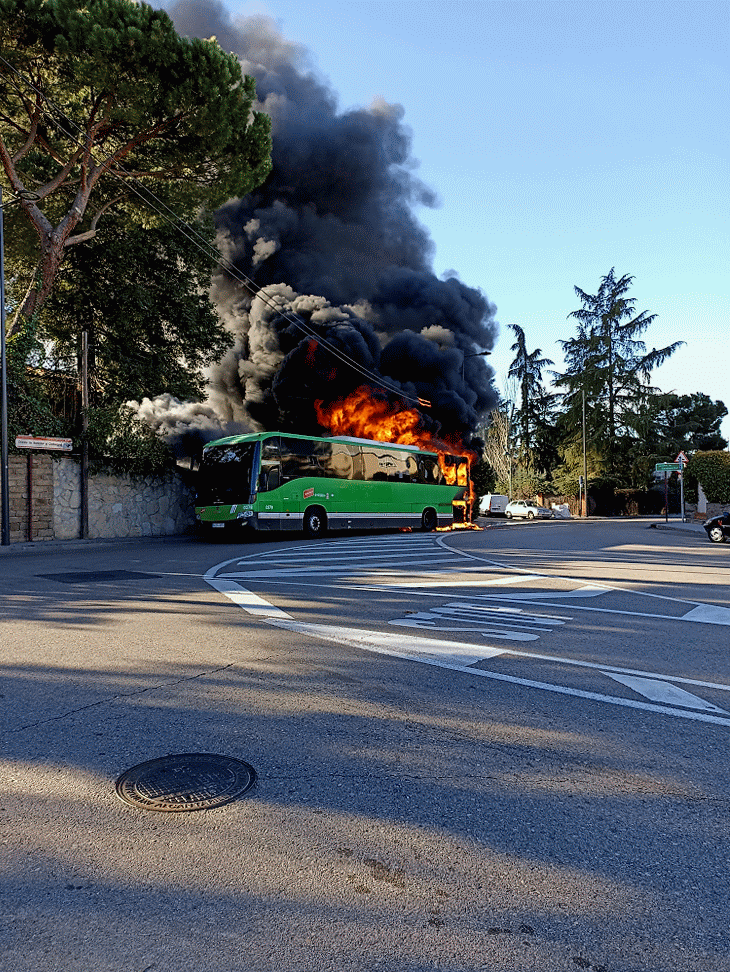 Fortunately, I forgot my earphones one day and wasn't distracted as the bus I was on caught fire and I was able to realise the dangers and actually get a woman off the bus who was oblivious to the smoke and fire as she listened to her phone and had her head down looking at the screen.
Public transport wasn't a suitable place to read and I found it hard at times to find somewhere with decent lighting that allowed me to read this dense novel in peace.
I found two great places to read and one was in a beautiful bar in old Madrid called La Cervecería Alemana which was one of Hemingway's old haunts.
I was able to make it through 20 pages at a time while enjoying some coffee and thanks to Jaime, a white jacked waiter there, who photographed me with the picture of Hemingway that he took off the wall, I now have a picture of myself reading the book too.
Hemingway was no stranger to Joyce and they used to drink together in Paris but for me, I found comfort in Hemingway's place as I tried to get through Joyce's modernist novel.
The other place, that I found to read, far less glamorous, than the one just mentioned, was my own personal throne where I was able to read a few pages at a time. I am sure Joyce got in trouble for placing Bloom upon the potty 100 years ago but it's not the worse place to read titbits.
Far more glamorous, I would love to see the stars of Groundhog Day appear with a copy of Ulysses or to see the classic comedy played in some way by Ireland's first public cinema, the Volta.
Joyce of course opened the Volta Cinematograph and I thought it was worth connecting Joyce with Groundhog Day, the beloved popular comedy starring Bill Murray and Andie MacDowell as Joyce created a single day that we relive each year on Bloomsday, and Murray's 1993 comedy relived the same day over and over again, until Murray's character Phil Conners finally succeeds to grow as a person and win MacDowell's character's affections.
There is a beautiful story where Bill Murray I believe suggested that MacDowell's character falls asleep in his arms after he reads poetry to her. It is a very romantic scene where we see them together in love and not just as a sexual conquest and it was apparently based on Murray's own wedding night where his wife fell asleep while reading poetry to her, after she had enjoying some champagne. It must have been difficult for him filming the scene as I believe he was going through a divorce at that time.
Joyce gave us a day that apparently represented his first date with his future wife Nora Barnacle but I can't help but imagine that Phil Conners, had time to read Ulysses while learning to sculpt ice, play the piano and recite poetry in French.
Who knows, maybe there is a version of this Groundhog Day story where Murray plays Bloom and Andie MacDowell could be his Molly. All I know is, if you have read this far, you will always think of Joyce's birthday and Groundhog Day as being the second of February and if you have a copy of Ulysses, then why not share it on the groundhogdaychallenge.com and be a part of this epic story too?
Supported by
UNESCO City of Literature